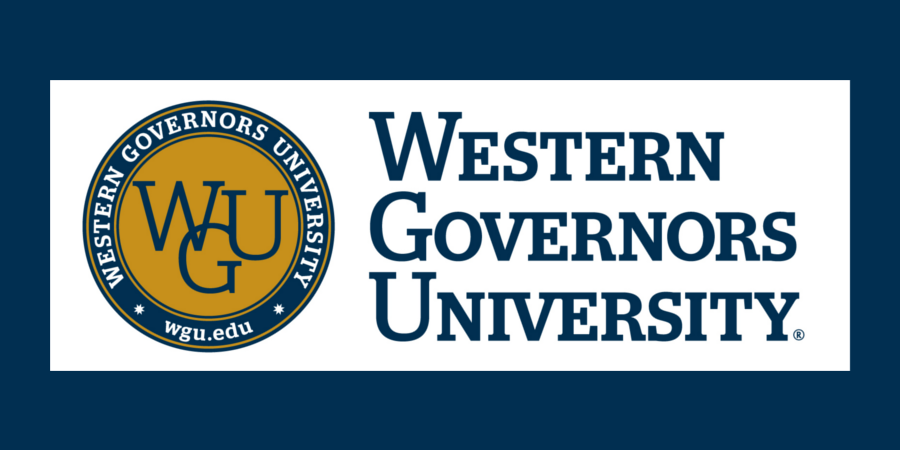 Western Governors University – A New Kind of U
In November 2015, I completed my AAS degree in Technical Studies from Excelsior College.  After attending 7 different colleges around the world and switching degree majors many times, there were two things I was certain of.  First, I wanted to continue my education by finishing my bachelor's degree, and second, I needed to attend a university that offered the ultimate in flexibility for a working adult like me.  After much Internet research, I found and chose Western Governors University, WGU.
History
Western Governors University (WGU) is a private, nonprofit, online American university based in Salt Lake City, Utah. The university was founded by 19 U.S. governors in 1997 after the idea was formulated at a 1995 meeting of the Western Governors Association. The university uses a competency-based learning model, with students working online. Robert Mendenhall is the current university president. Its accreditation is through the Northwest Commission on Colleges and Universities. (Wikipedia)
WGU Texas
In addition to being founded by governors, several states have created state-established and affiliated schools.  Governor Rick Perry of Texas founded WGU Texas in August 2011 with Executive Order RP 75.  Perry's predecessor, George W. Bush, was one of the founding governors of the university.  Since I live in Texas, I was assigned to WGU Texas.  As far as I can tell, the only difference you will notice between a state-established WGU, like WGU Texas, and the non-state specific of WGU will be the wording on your diploma.
Academics
WGU comprises four colleges, each offering bachelor's and master's degree programs: the College of Business, the College of Information Technology, the Teachers College, and the College of Health Professions, which includes degrees in nursing.  I am currently enrolled in a Bachelor's of Science in Business Management program.
Mad benefits
There are quite a few awesome benefits that WGU offers to their students.  These advantages are critical benefits to a working adult and exactly what I needed.
100% online – No time wasted traveling or sitting in class.  Log on to your courses, any time, from the convenience of your own pajamas.
Regionally accredited – WGU is accredited by Northwest Commission on Colleges and Universities.  Being regionally accredited should show that WGU is NOT a degree mill.  After spending many months researching higher learning institutions, I found many colleges that were "nationally accredited."  I found that degrees and credits from nationally accredited schools did not transfer to most regionally accredited schools.  I did not want to waste my time pursuing a degree that I would have problems transferring to a master's program.
Competency based – This is probably one of the best advantages to WGU.  Instead of completing classes based upon seat-time in the classroom, you earn your degree by demonstrating your skills and knowledge (competence) in specific subject areas through either performance or objective based exams.  Once you pass your exam, your class is complete!  It is possible to complete a class in a few days or a few weeks.  Your degree progress is entirely up to you.  After my first month at WGU, I had already finished 12 credit units. (3 classes)  Instead of wasting 5 months of semester time, I have been adding additional classes and completing them one by one.  So far, I have completed 5 classes in less than 2 months.
Less time, less money – Since WGU's classes are competency based, you pay by semester (6 months) and not per class.  Each 6 month semester, or term, will cost between $3035-$4395 depending on major and you will be required to complete at least 12 credit units per semester.  Once 12 credit units are complete, you have to option to either wait until your next semester starts or you can "fast track" and add new classes to your existing semester.  Remember, you pay by the semester and not by class.  The faster you complete your classes, the faster you will complete your degree.
No deadlines – Since your classes are competency based, you work on them at your own pace.  You are not required to have a certain assignment turned in on a day you working or unavailable or be required to be online on a specific date and time for a class group activity.  The only deadline you are bound by is having all of your registered classes completed by the end of your semester.
Rolling semesters – At an online school, your classes are online, so why should you have to wait for a certain "session" to start?  At WGU, you don't have to wait.  WGU has rolling semesters, so you can start your semester at the beginning of any month.  If you miss an enrollment deadline, you will not have to miss a whole term like you would at most other schools.  You simply have to wait until the next month to begin your semester.
Student and Course Mentors – When you enroll at WGU, you will be assigned a Student Mentor.  Their job is to keep in touch with you weekly to biweekly to keep you motivated an on track with your degree progress.  Also, each class you take, you will have a Course Mentor assigned to you.  Their job is to assist you with any academic issues you may have with your course.
The bad
With everything in life, there are always the negatives with the positives.  The following is a list of the possible down sides of WGU.  You will have to decide if these negatives will have any kind of impact on your education goals.
You are your own keeper – Since WGU is super flexible with time and deadlines of their competency based classes, you have to hold yourself accountable for your own deadlines.  Some people have issues with priorities and have a lack of time management skills.  They let social media and "fun time" take priority over their education.  People, who have these issues do better in a structured, brick and mortal school with set class dates and times.
No GPA – When you pass your classes at WGU, you are essentially completing your work at the "B" level.  There isn't a grading scale at WGU.  It is either pass or fail.  So, if you are an over achiever that is set on finishing your degree with a 4.0 GPA, then WGU probably isn't for you.  Also, If you are applying for a job that requires a certain GPA, then WGU is probably not for you.  However, I would never work for a company that has a GPA requirement.  A high GPA does not guarantee good job performance or the required social skills needed in business world.
100% online – I know this was one of my "mad benefits", however, some companies still frown upon online school.  Perhaps this goes to show the "old school" mentalities of it's leadership.  Online schools have come a long way and honestly, I feel that the classes I am taking now are actually much better structured that that of classroom courses of the past.
No peer interaction – In previous online studies before WGU, I actually had quite a bit of interaction with my fellow college students.  Whether it was working in "virtual groups" or collaborating together on a message board about a project, I was interacting with my fellow college peers.  With WGU, all of your coursework is your own.  The only interaction you may have will come from either "Course Chatter" (course message board) or from interacting on WGU's Facebook community app.  All of your course work is independent of other student's work.  I actually like it this way.  This means my course completion is strictly my own responsibility.
Credit transfer – In my opinion, WGU has much stricter credit transfer policy due to degree requirement specifics.  There are not a lot of "empty electives" in their degree programs like some colleges and universities have.  Unless your previous course work aligns almost perfectly with the courses at WGU, then chances are, your classes won't transfer in.  The only exception to this would be if you already hold an associates degree.  An AA/AS/AAS degree will allow certain competencies to be fulfilled even though you might not have taken a specific class.  My AAS degree allowed me to fulfill a geography requirement and I never even took a Geography class.  No complaints here!  The other downside to WGU credits is that if you decide to leave WGU and transfer elsewhere, some schools will not take WGU credit since WGU grades on a pass/fail system.
My current progress
When I enrolled with WGU, I transferred in 46 credits of the required 120.  Not all of the classes at WGU are 3 or 4 credit unit classes.  Some are 6, 7 and even 8 credit units.  It would be misleading to say only 38% of my previous college credits transferred to WGU.  So instead, when I started WGU, I was left with 17 classes to complete to finish my BS in Business Management degree.  My 1st semester at WGU officially started on February 1, 2016.  Within less than 2 months, I have completed 5 classes and I am left with 12 classes to complete.  I use a pretty cool app called PocketWGU that allows me to post progress badges to Facebook.  This helps me stay motivated and on track.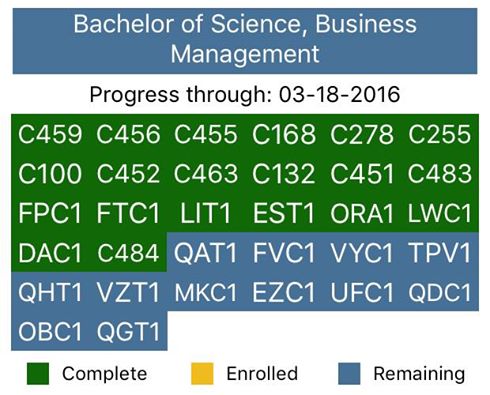 The letter/number combinations you see above are the WGU class codes.  I am currently in the process of enrolling in my next class, thus no "Enrolled" colored class is shown.
So far, I have been really happy with WGU.  I love the flexibility it has to offer.  I also love the competency based model.  There are actually 2 types of competency exams in their model.  The first one is called an Objective Assessment or (OA).  The OA is a multiple choice based online exam.  You have 2 options in taking this type of exam.  You can take the exam at a WGU approved facility where a real life proctor can administer your exam to you.  The other option is the one most people use.  It is a webcam proctored exam.  This exam allows you to test from home with your computer connected to a WGU provided webcam.  You will first connect to an online proctor using GoToMeeting.  Once you have made contact with your proctor, he/she will have access to see your screen as well as your surroundings through the webcam.  Once everything is in order, you will begin your exam and your proctor will monitor your test taking.  Once your test is completed, you will end the proctored session and go to WGU's website to see your score.  If you pass, then your course is complete and you can enroll in your next class if you wish. If you fail, you will have to speak with a Course Mentor to see what needs to be done before you retake your exam.  Usually, you can take your exam up to 2-3 times before it might cost you an additional fee to retake it.
The second type of competency exam is called a Performance Assessment or (PA).  The PA requires you to submit some type of paper or presentation for grading.  You will be given a grading rubric to compare your work with the grading criteria.  Once you are finished with your paper or presentation, you will upload it to Taskstream.  Taskstream is a cloud based assessment solution provider that a lot of colleges and universities are using nowadays.  Taskstream will place your uploaded document in a queue and will show you what number you sit in the queue.  When I submitted my paper for my last PA I was #71 in line.  It took about 30+ hours until my paper was graded.  It is common for people to keep watching their "place in line" in Taskstream.  We call this Taskstream stalking.  🙂  Once your paper is graded, you will be given a copy of the grading rubric and if you passed all of the requirements, your class if completed.  If you did not pass every requirement in the rubric, you will be given an explanation of what part of the rubric your paper did not meet.  You will be allowed to correct your paper and resubmit it back to Taskstream.  It really is an easy process.
My educational future
Right now, I am pretty set on pursuing a masters degree at WGU once I am finished with my bachelors.  I am leading towards their M.S. in Management and Leadership degree.  I am planning on working my way into a management position with my current company.  I feel this should give me a really good chance in meeting any education requirement of the position.
The bottom line
If you cannot tell already, I have a high opinion of Western Governor's University.  It is truly a great learning institution for the working adult.  I might not recommend WGU to a freshly graduated high school student, and it may not be for everyone, however, it is the best choice for me.  In my opinion, the benefits greatly outweigh the disadvantages.
A deal for you
If you find WGU to be as much as an awesome university as I do and you want to enroll, click the link below to save yourself from the $65.00 application fee.  The link will waive your application fee and it will give me a voucher to buy something from the WGU store.  I am seriously eyeballing the coffee cup!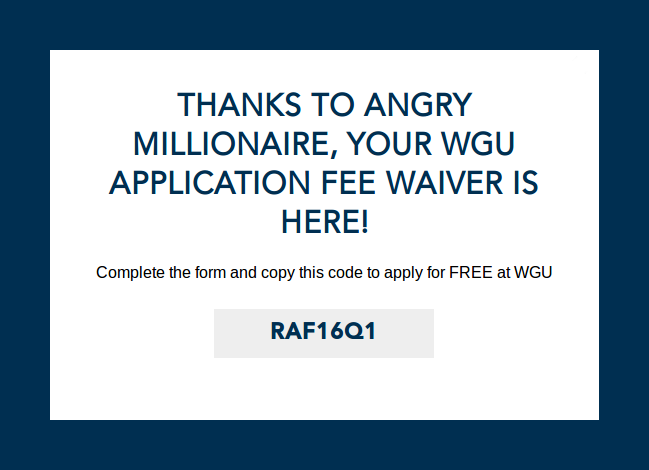 What are your experiences with WGU or other online schools?  Have you ever taken an online course?  Do you have any questions about WGU?  I would love to answer them!
Until next time…KCMO…Keep Calm and Money On!
Johnathon Brady
The Angry Millionaire