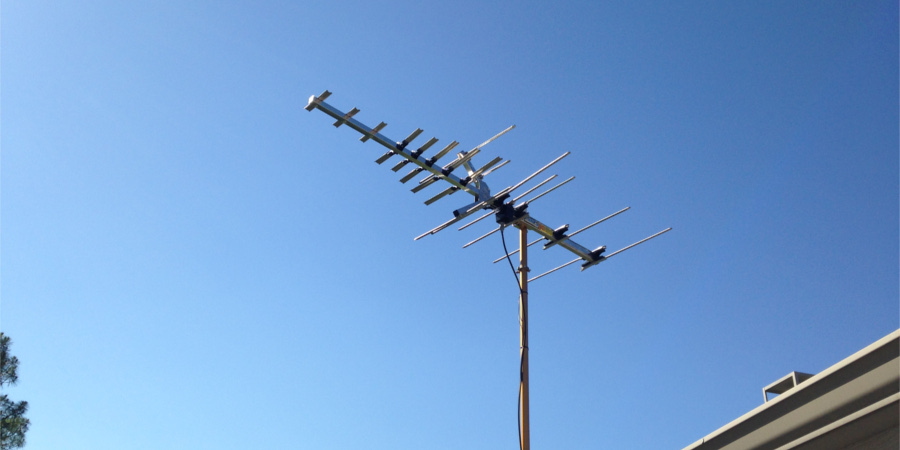 Cut the Cable and Save Your Retirement
Have you ever considered cutting cable television and saving some money?  I find it extremely disturbing that more people are very familiar with terms like HBO, Showtime, and ESPN, however, they know little or nothing about 401Ks, Roth IRAs, 529s, stocks, bonds or mutual funds.  I hate to be the bearer of bad news, but choosing cable over retirement is not a wise financial decision.  However, by "cutting the cable," you can probably save enough money to make a huge impact on your retirement without making a huge impact on your entertainment.  When I moved into my current house in October of 2013, I needed to turn on my utilities.  You know, the essentials… water, electric, gas, cable and Internet.  Cable?  When did cable become essential?  We all know and can agree that the Internet is practically a necessity these days.  Life is much more "inconvenient" without it.  However, you never hear cable companies promoting just Internet.  "Bundle and save!" they say.  However, there is no such thing as a free lunch and you are only saving if you bought all of their services separately.
Since I have no need for a home phone, (who really does?) I really didn't need my cable company's "TV/Internet/Phone Bundle plan."  So I opted for high speed Internet and their mid-level high-definition (HD) cable package at $89.00 a month.  I figured that the monthly price wasn't all that bad, so I signed up for 24 months to get their best "deal," and the services were turned on.  A month later, a $123.00 bill.  What?  $123?  I thought it was only $79.00 a month!!!  What they don't tell you is how incredibly expensive taxes are and, in my case, I was being forced to rent an HD decoder that converts their cable channels to 1080p resolution for my TV.  I called and asked if I could save some money and purchase the HD decoder.  "Sorry, but we only rent the decoders" is what I was told.  Of course you only rent the decoders, it is a money maker!  So I did what most people do…They complain to their friends!
After catching my a local friend of mine, I whined and cried to him about my atrocious cable bill and wanted some emotional comforting.  $123?  "That is cheap," he stated.  What?  Cheap?  My friend goes on to tell me that his cable bill is almost $200 a month.  $200???!  What exactly was he watching!?  Come to find out, my friend has the top level cable, Internet and phone package.  I asked him if he really uses all of those things.  He said, "Not really, but it is nice to have."  Nice to have?  Well bless his heart!  I am sorry, but I do not pay for things that are just "nice to have."  "Nice to have" does not pay the bills nor funds the retirement accounts.  I knew there had to be a better way.  After looking online, I discovered that the normal over-the-air broadcast stations I watched as a child are now broadcasting in HD.  Really?  HD?  How do they do that?  The best thing is… it is free!  I like free.  My bank account likes free.  My retirement accounts, especially like free.
The fix
After spending more research on over-the-air HD broadcast television, I found a site called Antennapoint.com.  It allowed me to search my area for local area HD broadcast transmitters.  It turns out that the Dallas, TX area has 18 HD broadcast transmitters.  18?  I had to see exactly what 18 transmitters could do for me.  My research also discovered that I was going to need an HD antenna to bring in those free over-the-air HD broadcast channels.  I did some searching and found the 1byone Amplified HD antenna at Amazon.com for only $29.99.  I purchased this antenna and patiently waited.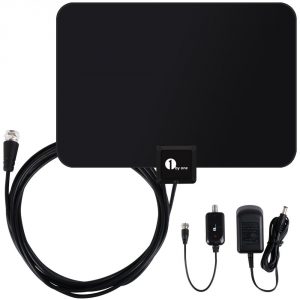 Once my 1byone Amplified HD antenna arrived, I eagerly hooked it up.  I was amazed!  Even though there are only 18 broadcast transmitters in my area, I was receiving over 25 channels, all in HD!  Some of the channels, however, were not coming in as clear as I would have liked.  This was because my bedroom is located on the northwest side of my house and the transmitter antennas are located on the southeast side.  My solution?  I "needed" an outdoor HD antenna!  Now being a former electrician in the Navy and an Extra Class licensed Ham Radio Operator, I knew the tools and equipment I would need for such an installation.  The first thing I would need would be a good outdoor HD antenna!  I searched my favorite Amazon.com website and found the Winegard HD7694P High Definition VHF/UHF Antenna.  It received some really good reviews compared to the others.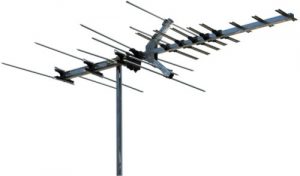 According to Amazon, the Winegard HD7694P has a reception capacity of 45 miles.  Since the HDTV transmitters in Dallas are approximately 25 miles away, I felt this antenna was a good choice.  Once the antenna came in, there was almost no assembly required.  Just simply move the antenna elements into their proper position.  Now, of course, I was going to need additional parts and tools.  Below is a list of the things I used:
8-Port Bi-Directional HDTV Amplifier/splitter – This will amplify the antenna reception and allow you to split the channel into 8 separate lines (1 for each of your rooms)
Ideal 33-793 Compression Hip Kit – This tool kit allows you to cut the coax cable and make the connections
Ideal Compression RG6 F Connectors – 50pk or reg/tri/quad coax cable – Self explanatory.  I like Ideal products.  They are of high quality and have never failed me.
50 ft RG6 coax w/ ground wire – Since I already had pre-existing coax that was ran from the out side of my house to the attic, I simply needed a piece to run from the antenna to side of my house.
Channel Master CM-1805 5ft Steel Antenna Mast – I used 3 sections, totaling 15 feet of mast.  Each end is tapered to all easy connection and expansion.
F Type 75 Ohm Terminator – 10 Pack – I used these to plug any unused jack on my amplifier/splitter
Optional tools:
Multimeter/Ohmmeter – I own a Fluke 115, and this allowed me to verify all of my connections, as well as I used it for all of my other electrical projects.
Without going into extreme detail, I mounted the antenna and ran the cable to a pre-existing coax cable that was on the side of my house and made the connection.  Using my multimeter, I located the same cable in the attic and connected it to the amplifier/splitter.  I found and connected all of the coax cable runs that connect the jacks in each room of the house and connected them to the splitter.  I powered the splitter from an outlet in my attic and then connected my TVs.  I adjusted the antenna to point southeast and set my TVs to "air" and selected auto channel scan.  If you have any questions about my setup, experiences, or need some technical assistance about installing an outdoor HD antenna, leave your questions in the comments below.
The results?
Shockingly, my TVs found over 50 channels, with most of them being in HD.  The main local channels are so clear in HD, you really cannot tell the difference between cable and broadcast.  Will watching only broadcast TV satisfy your entertainment needs?  Not really.  However, if you subscribe to or already have Internet streaming services like Netflix, Hulu, or Amazon Prime, broadcast TV will most certainly fill in the emptiness quite well.  Especially if you need some local new and weather information.  Will I ever go back to cable?  Unlikely.  The combination of the broadcast antenna with Internet streaming services fill all of my entertainment needs.  Besides, I spend more time in front of a computer, reading books or listening to podcasts/audio books than I do watching TV.  Also, keep in mind, just as with cable, not all 50+ channels I found were of my liking or language ability.  However, I was mainly concerned with the main stations and public broadcast channels.  Sesame Street anyone?
Can cutting cable really impact my retirement?
You bet it can!  Now if you are fortunate enough to have the ability to maximize all of your retirement accounts and still enjoy cable television, then good on you.  However, if you are choosing to pay for cable over funding a ROTH IRA or other retirement investment vehicle, then you are really losing out.  Look it up for yourself and do the math.  I was paying $123 a month on cable and Internet.  Now, I am paying $63.00 a month just for internet.  I am saving almost 49% or $60.00 a month.  $60 a month invested into a retirement account, such as a Roth IRA for the next 20 years at an 8% return will yield you around $35,000+ (your day of retirement may be sooner or later than mine)  My figures are hypothetical of course, however, that does not make the principle invalid.  I would rather have an additional $35K in retirement than pay for cable.  Wouldn't you?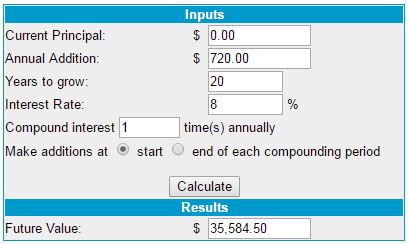 So what are your thoughts on cutting cable?  Have you ever thought about it?  Have you done it?  Do you miss cable?  Did you go back?  Leave me a comment and tell me about your experiences.  I would love to hear from you.
Until next time…KCMO…Keep Calm and Money On!
Johnathon Brady
The Angry Millionaire